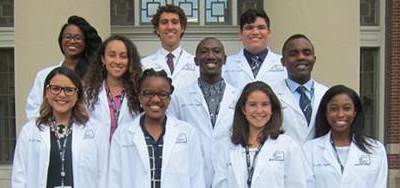 Mission Moment: Fostering Interests of Underrepresented Minority Students
As part of our commitment to training the next generation of health care professionals, each year BWH recruits underrepresented minority college and first-year medical students from around the U.S. for an eight-week mentored summer program known as the Summer Training in Academic Research and Scholarship (STARS) Program.

Hosted by the Center for Diversity and Inclusion, STARS provides students with intensive, hands-on training in research methods and practice directly in the labs of BWH and Harvard Medical School's leading researchers.

Throughout the eight-week period, students are paired with a faculty mentor and participate in several educational and training seminars designed to enhance their professional development, encourage academic excellence and introduce multiple career pathways available in the field of biomedical sciences.

Earlier this year, Stanthia Ryan, along with several other students, received the exciting news that they were accepted into the 2018 STARS Program.

A first-year medical student at Georgetown University School of Medicine in Washington, D.C., Stanthia knows firsthand the power of mentorship. As an alumna of the Student Success Jobs Program and the Health Career Connection Program at BWH, she completed her first health care-related internship during her senior year of high school under the mentorship of Raina Fichorova, MD, PhD, chief of the Division of Genital Tract Biology in the Department of Obstetrics and Gynecology.

Stanthia said it's because of Dr. Fichorova's constant guidance and support throughout the past several years that she wanted to pursue a career in the medical field. She added that having the opportunity to come back to the Brigham to work with Dr. Fichorova through the STARS Program is the "icing on the cake."

"It feels like I'm coming back home," she said. "I love everything about the Brigham and am grateful I'll be back this summer as part of the STARS Program to learn from some of the best clinicians and researchers in the world."

Eldrin Foster Lewis, MD, MPH, FACC, director of the STARS Program and director of the Cardiovascular Clerkship Program in the Division of Cardiovascular Medicine, said he's looking forward to working with and learning from the next cohort of STARS students.

"For over a decade now, we've been so fortunate to welcome some of the best and brightest students to the Brigham who are considering future careers as health care professionals and PhD scientists," Dr. Lewis said. "The BWH STARS Program has given underrepresented minority medical and undergraduate students an opportunity to engage in basic, clinical and translational research projects, enhance their research capabilities and encourage them to pursue advanced medical and graduate education and training through professional development and career mentoring."

At the Brigham, we are so fortunate to have so many excellent programs and resources available to students in our community – they are the future of medicine.

I often think back to my time as a medical student and the opportunities I was afforded to advance my education. To this day, I cherish the relationships I formed with my mentors and peers during that time, and am so grateful for all the knowledge I gained. I also learned a lot about myself as a person and as a student in medicine.

To our incoming STARS students: Enjoy every minute of your journey at the Brigham. We are so delighted to welcome you into our Brigham family.
Source: BWH PikeNotes